Brief review written a few minutes after receiving the package, but since I do not have much time these days and that we are to have received very few in Italy, I wanted to share with you my first impressions.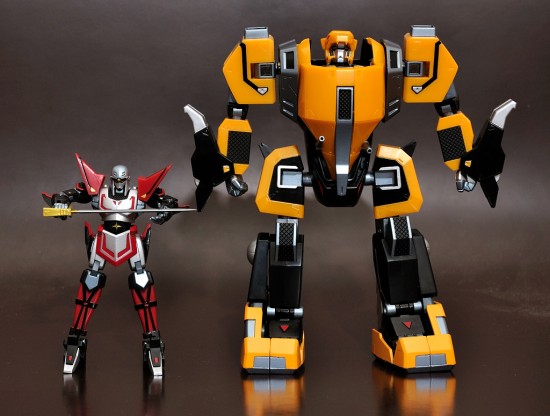 As many know, it lacks the polystyrene, and the two robots are contained in a transparent blister pack; in any case, the box I is not arrived dented, since the transparent blister is however reinforced in several points from cardboard, then the box is protected internally.
Kurojishi: weight about 400g then more than acceptable (for example most of a GX Mazinger); metal parts are: feet (yellow part), the copribraccia blacks, the whole piece corset-back (the black part, not the yellow one), and some seam. The color I like, is a beautiful yellow, live is nice.
Tobikage: very light, weighing about 30g (have pity, broke the sling, I'm weighing in the Thermomix ..), the metal parts are apparently only the chest, the rest in a convertible so small it can stay. The robot is enormously can be laid.
Transformation: I do not have time to evaluate it at the time, the item will integrate in the future.
Ultimately it seems a good buy, and I'm glad I will buy the remaining 2 outputs from Tobikage; reference, however, a final judgment until I have been able to test the transformation in lion.