It's been months since I wanted to tell you about this wonderful model of Jeeg. I state that this is not a model "industrial", but a beautiful custom handcrafted by master SchumyGo, a talented modeler of the Roman, for its line of custom "Super robots Restyle Alternatives."
The base resin is a commercial static Schumy which has made several structural changes: in short, the model has been made magnetic and can be laid and have been created in just the accessories that were not present in the original resin (which was the only bazooka) and the exhibition stand.
The quality is absolutely fantastic, and I have to say (incredibly, it is a custom model) which is perhaps the first time that a non-magnetic model presents stability problems, indeed, this is very stable Jeeg: picking up the model, the "joints "magnetic are practically glued, but at the same time the robot is posabilissimo.
Among other things, the particularity of this model is also in having the hooks magnetic ALL, not just some, as in previous attempts Takara, Bandai (Kotetsushin Jeeg) and CM's (Gakeen) below the decomposed model and the other two classic poses .
The realization is resin (there are obviously diecast parts), but at the same time the model is heavy, because of the strong presence of magnets and ferrous material.
The coloring is absolutely fantastic, as only an experienced modeller SchumyGo know how to accomplish. The model is available in three colors: a normal, a pre-shading/weathering and one black, and one that I chose you see in the picture is the pre-shading, although all three are fantastic ... if the good Schumy reopen the I would have reservations about the idea of ​​Him to ask the other two!
Absolutely fantastic even the presence of weapons: SAR # 03 in fact includes a pair of piercing missiles, a pair of rotating disks and a bazooka, in addition to the 3 types of punches (open, closed, and "united" to simulate the double-hammer drilling ).
Only fault (if I may say so) is that the model, it is not industrial, it is certainly more delicate and must be handled with care in this regard.
We are all waiting for the CM's Jeeg future, but at the same time are already certain that it will never reach these heights ... it will mean that I will use the CM's to fight and play robottoni

I close with a comparison with the model Bandai, the scale is similar so they are side by side.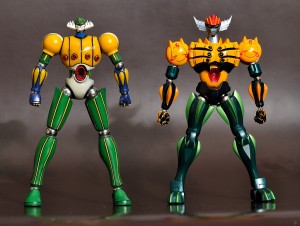 Thank you again for the wonderful opportunity SchumyGo friend who gave me to have a model of its kind in the collection, hoping to soon have new SAR collection. I refer you directly to the page on his website for more details on the model: Zone of Hobbies SAR # 03