And it finally came time to present the most absurd piece I've ever bought in my collecting career.
A brief historical introduction: the old line Chogokin game in 1974 had in fact three components: a component Super Robot (which is what interests us most), a component Sentai / Super Sentai (also interesting), a component of dolls more or less unrealistic (at that time there was also the Chogokin Topo Gigio ...)
In 1996, after exactly 10 years, Bandai decided to riesumere the Chogokin series that was interrupted in 1986 with the GC-39. The first 3 were chosen as representatives of the three souls that I quoted:
GD-01: Kabuterios (a robot Sentai)

GD-02: Kankichi Ryotsu ("doll")

GD-03: God Raideen (super robot)
Just the GD-02 we go there to occupy. Anyone who knows me knows that I take around this piece for a decade ... found an auction at 25 Euros I decided it was time to finally buy it

Among other things, according Zinc Panic and other sources, this is the first Chogokin designed by Tsuyoshi Nonaka, which will be the following year to take the helm of the project Soul of Chogokin.
The series, despite being mostly unknown in Italy is among the most famous in japan: Kochira Katsushika-ku Kameari Kōen Mae Hashutsujo, friends Kochikame. The manga is published continuously since 1976 and has surpassed 173 volumes and 135 million copies, the anime has 373 episodes.
The box is the norm for the Chogokin series, the object is Made in Japan (Not China!)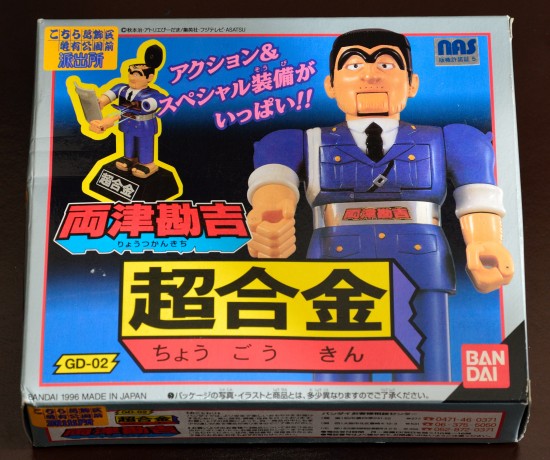 The appearance is what it is: it seems Elio dressed as a policeman. The metal content is more than good: a good 60% of the body is diecast. The fists are firing, they are provided a shield and a gun (which I have taken away from the sprue). Head and chest open showing ... boh!?!?
And now freely perculatemi